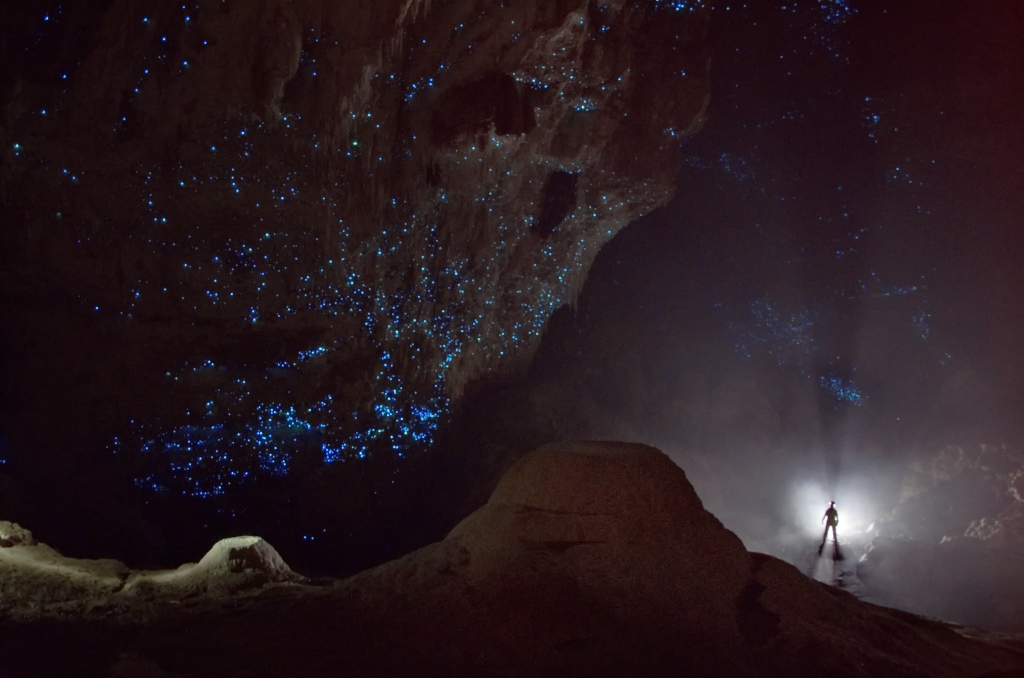 Photo from Hollow Hill Cave, New Zeland
image Credit and Copyright Phill Round.
NASA APOD
This amazing photo composed and taken by
Phill Round
iin the Hollow Hill Cave, New Zeland is my current favorite candidate for Astrotheology Theme Image. It shows a wonder of the Universe in a fabulous way that no mere words can describe. Yet, in order to understand the powerful message in this photo a few words are still needed.
No, it is not the Southern Cross and the Coalsack Nebula in the upper left of the image. In fact, the spots of light on the "sky" are not stars at all.
Look up in New Zealand's Hollow Hill Cave and you might think you see a familiar starry sky. And that's exactly what Arachnocampa luminosa are counting on. Captured in this long exposure, the New Zealand glowworms scattered across the cave ceiling give it the inviting and open appearance of a clear, dark night sky filled with stars. Unsuspecting insects fooled into flying too far upwards get trapped in sticky snares the glowworms create and hang down to catch food.
APOD
Glowworms imitating night sky?
Quick reactions
There are two Pavlov's reaction to this amazing constellation of glowworms on the ceiling of a dark cave.
1. Die hard evolutionist says "Do not worry about such riddles of Nature. The key to understanding evolution of this species and its subsistence strategy is natural selection and based on this universal principle we will surely figure out now or in the future a feasible theory how a group of worms got the ability to imitate night sky."
2. Die hard creationist says "look, it is impossible that a group of worms would be able to act in this manner creating a composite image of space in the ceiling of the cave to catch food. Some Intelligent Being must be behind all this since otherwise the complex behavior and understanding of geometry by
Arachnocampa luminosa
cannot be explained meaningfully."
But hey, hold your horses!
Let us for once put aside the first thoughts that rise with our curiosity when admiring the attractive scenery depicted in the photo.
Let us be quiet and contemplate what we see, let us listen to the many ideas that rise to our heads without hurrying to fix it into some man-sized explanation to this truly divine phenomenon.
Let us recite the mysterious wording in the over two thousand years old Hallelujah! Psalm 148 - that leaves so many questions without answers!
Psalm 148
1 Praise the Lord.
Praise the Lord from the heavens;
praise him in the heights above.
2 Praise him, all his angels;
praise him, all his heavenly hosts.
3 Praise him, sun and moon;
praise him, all you shining stars.
4 Praise him, you highest heavens
and you waters above the skies.
5 Let them praise the name of the Lord,
for at his command they were created,
6 and he established them for ever and ever—
he issued a decree that will never pass away.
7 Praise the Lord from the earth,
you great sea creatures and all ocean depths,
8 lightning and hail, snow and clouds,
stormy winds that do his bidding,
9 you mountains and all hills,
fruit trees and all cedars,
10 wild animals and all cattle,
small creatures and flying birds,
11 kings of the earth and all nations,
you princes and all rulers on earth,
12 young men and women,
old men and children.
13 Let them praise the name of the Lord,
for his name alone is exalted;
his splendor is above the earth and the heavens.
14 And he has raised up for his people a horn,[b]
the praise of all his faithful servants,
of Israel, the people close to his heart.
Praise the Lord.
Indeed, praise the Lord you small creatures!
----
Thank you to Phill Round for submitting the photo to NASA APOD for us all to admire!